Top 20 Personal Development Books You Should Read This Year
Reading good personal development books is one of the best ways to invest in your own growth and development. The right reading habits can improve your memory and learning capabilities. It is no wonder that many successful people credit their success to their reading habits.  Oprah Winfrey once said, "books were my path to personal freedom"
Bill Gates is also known to be a voracious reader, completing about 50 books a year.
Bill Gates'  4 rules on how to read a book are :
Don't start a book that you will not finish
Take notes to make sure you are absorbing new knowledge, make sure you are concentrating.
Read what is comfortable with you whether print or digital books.
Read for at least one hour every day.
When Warren Buffett was once asked about the key to success, he said, pointing to a nearby stack of books,
" Read 500 pages like this every day. That's how knowledge works. It builds up, like compound interest. All of you can do it, but I guarantee not many of you will do it."- Warren Buffett

Click To Tweet
Will you?
I want to make it easier for you to start reading by providing you with a collection of the top 20 personal development books that you should read this year, or should I say ASAP! Invest in yourself by reading these books.
Best Books On Personal Development
Maybe you are determined to read more but there are thousands of books in the world and you are wondering where to start. This is a list of the best books on personal development many of which have been on the best selling personal development books list on Amazon for weeks and months.
Here is a quick list if you want to go straight to a specific book. Just click on the book you want and the link will take you to its short review and direction on where to find it.
List of The Top 20 Personal Development Books
Short reviews of the best books on personal growth and development:
1. The 7 Habits of Highly effective people; Powerful Lessons in Personal Change by Stephen R. Covey
In this book, Covey covers 7 habits of successful people which you can adopt in your own life to become more effective. There is an emphasis on effectiveness rather than efficiency. It is no good being highly efficient on a task that is not important. The 7 habits covered in the book are:
Be proactive
Begin with the end in mind
Put first things first
Think win-win
Seek first to understand then to be understood
Synergize
Sharpen the saw
Let me not preempt the book any further. If you are keen on transforming your life to become more effective then this one is for you.
2. Think and Grow Rich by Napoleon Hill
There is wealth in this book. Napoleon Hill draws from the stories of successful people to teach you the secrets that can help you have a rich life. It is one of the most life-changing books you will ever read. Ultimately, you are the captain of your life, you steer in the direction which you want. You need to realize that you have this power within you and this book will help you do just that.
"You are the master of your destiny. You can influence, direct and control your own environment. You can make your life what you want it to be." – Napoleon Hill, Think and Grow Rich
3. The success principles: How to get from where you are to where you want to be – Jack Canfield
In the success principles, Jack Canfield lays out 65 principles that have been used by successful people throughout history which can be adapted to your own life. This is the book for you if you want to find just one book that has lots of great ideas to help you make improvements in your life. You will learn how to increase confidence, tackle daily challenges, live a life of passion and purpose and realize your ambitions.
Check it out on Amazon
4. How to win friends and influence people – Dale Carnegie
This book has very simple ideas but if you implement them in your life they can really improve your relationships. There is simple advice such as to smile and remember people's names (which doesn't come very easy to me) and more serious insights (in my opinion) on how to deal with arguments. If you are the kind of person who never gets people to do what you want, this book may be the key to solve our problems. I love that the advice in there is really practical.
5. Awaken the Giant Within: How to Take Immediate Control of Your Mental, Emotional, Physical and Financial Destiny – Tony Robbins
I truly believe that Tony Robbins has created his place as one of the greatest authorities in the personal growth and development space today. Many people will agree that he is a great coach and now in this book, he has also established himself as a great author.
About this book, this is what I will say if you can only pick one book to read today, pick this one. The quality of your life will improve drastically when you take action and apply the wisdom in the book.
6. The Purpose Driven Life: What on Earth Am I Here For? – Rick Warren
This book seeks to help clarify your purpose in life, to answer the question, why am I on earth. I read this book for the first time about 10 years ago and helped me to discover that each one of us has a purpose in life. It is your responsibility to identify and live in your purpose and this book will help you do so.
This book is also really popular for group studies in churches and study groups on purpose. You will love it.
7. The Power of Positive Thinking – Dr. Norman Vincent Peale
You control your life by controlling your thinking. the power of positive thinking is one that none of us can afford to ignore and Dr. Peale does well in developing the argument for positive thinking. This book is an international bestseller and is one that should be on everyone's bookshelf. No matter where you are in life, there is wisdom in this book to help you live a happier, more fulfilling life.
8.  Developing  the Leader Within You – John C. Maxwell

Leadership is all about influence. Great leaders are those who are able to influence others positively. You will find this book to be a great resource for developing leadership principles in a systematic way. There are many practical points that will help you become a better leader in whichever position you are.
9.Rich Dad Poor Dad: What the Rich Teach Their Kids About Money That the Poor and Middle Class Do Not! – Robert T. Kiyosaki

Do you believe that you need to earn a huge income for you to be rich? This book is the best for improving your financial intelligence. The advice in the book is practical and will help to start you off and improve your personal growth in finance. If you are looking for a personal growth book in finance and investing, this is the book for you.
10. Success Through A Positive Mental Attitude – Napoleon Hill and W. Clement Stone

Your success, happiness, health and financial wellbeing are all dependent on your attitude. I listened to the audio version of this book and I found it quite remarkable. It covers principles of success and makes a case for how a positive mental attitude is key to attain success. Using real stories of men and women that used the power of positive attitude to attain success, the wisdom is timeless. This is one of those books you have to read more than once because it is that good.
11. Why We Do What We Do: Understanding Self-Motivation – Edward L. Deci
Sometimes your external circumstances do not motivate you but you need the drive to keep going on. Self-motivation is something we cannot ignore in pursuit of personal growth. You cannot achieve success without self-motivation.
In this book, Deci delves into the science of human motivation, how and why we do the things to do. He gives actionable advice to help you create sustainable motivation and drive in your life. This book is also a great resource for everyone who is in charge of others. As a parent, this book will be an eye-opener and help practice positive parenting.
12. The Power of Your Subconscious Mind – Joseph Murphy
Our subconscious mind does most of our daily thinking. Understanding the power of your subconscious mind and releasing this power is the secret possessed by successful people.
This book is an easy read and will help you to understand the power of your subconscious mind better and how to work with your subconscious mind to improve all areas of your life.
13. Outliers- The story of success by Malcolm Gladwell

Many people say that their success is self-made. But why is it that some people attain great levels of success while others fail to attain their highest potential?  Gladwell takes the scientific approach to explain the different factors that play a role in one achieving success.
You will learn about the 10,000-hour rule. For one to become an expert in a certain area, they have to have put in at least 10,000 hours of practice. This book has very interesting stories and it is quite an enjoyable read.
14. Quiet: The Power of Introverts in a World That Can't Stop Talking – Susan Cain

If you are an introvert, this is a must-read for you. I am an introvert myself and I know that sometimes we spend a great deal of time trying to adjust. Adjusting to a world that seems to be going at a much faster pace than we are comfortable with.
You will learn that there is nothing about your introversion that needs 'fixing'. It will free you to be true to yourself and realize that being an introvert is not a flaw. It is a beautiful thing. Grab that book fellow introvert, you won't regret it.
15. The Power of Habit: Why We Do What We Do in Life and Business  – Charles Duhigg

Habits can either enslave you or free you, you only need to learn to handle habits well.  Ths book will teach you how habits are formed and their influence over individuals and society. Habits are routines that you have formed in your life which occur almost automatically.  You can learn how to replace bad habits with good habits and utilize the power of habit.
16. See You at The Top- Zig Ziglar
This book is really a step by step guide to help you live a happier and successful life.  Ziglar covers 6 steps for success including self-image, relationships, goals among others. You will learn how to set and accomplish goals, develop a healthy self-image and have better relationships with others.
If you want to get to the top, then you really need to get See You at The Top!
17.The Alchemist – Paulo Coelho
The Alchemist is a modern classic that tells an inspiring tale of self-discovery. It is a book that inspires courage to pursue your goals and visions no matter how big they are.
"And, when you want something, all the universe conspires in helping you to achieve it." – Paulo Coelho, The Alchemist
Do you want to live fully the life that you truly desire? This is the book for you.
18. Maximum Achievement: Strategies and Skills that Will Unlock Your Hidden Powers to Succeed – Brian Tracy

You have the power to succeed but you have to first recognize your true potential. This book will help you realize your potential and achieve success in all areas of your life. If you apply the principles outlined by Brian Tracy, you will be able to see the results in your own life quickly.
19. Getting Things Done: The Art of Stress-Free Productivity – David Allen

Who doesn't want to be productive yet stress-free? I know I do. This is a book to help you become more organized. David Allen offers practical skills which you can implement immediately and start seeing changes in your own life.  Getting your life into order will definitely relieve you of unnecessary stress and make you more productive.
20. Who Moved My Cheese?: An Amazing Way to Deal with Change in Your Work and in Your Life – Spencer Johnson

This is my all-time favorite book. Short to read, life-changing message.  I did a review on it in my top 5 books that have transformed my life.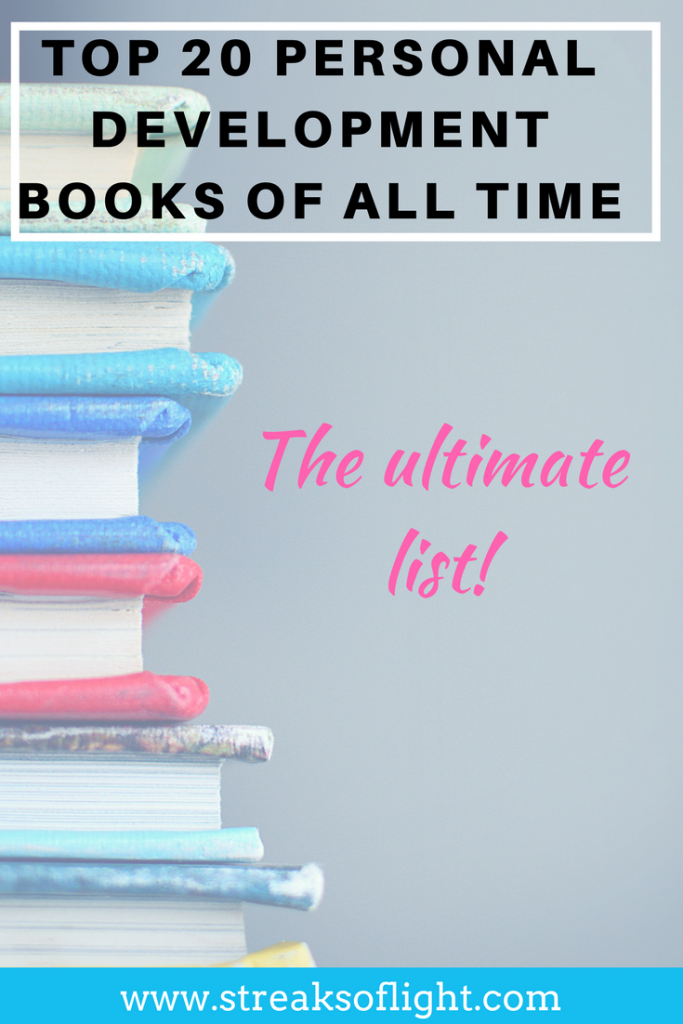 Improve Your Reading Habit
To improve your reading habits, set aside just 20 minutes every day to read. The best way to do this is at night when you are going to sleep. Instead of scrolling through social media waiting to fall asleep, just pick a book and enjoy reading until you actually fall asleep.
If you don't like reading the try listening to audio books as you drive, commute or even go about your daily activities. Listening is the new reading 🙂
This list is not exhaustive and in the coming days, I will be working on more resourceful lists which target specific areas of development.
I would love your feedback/help on this and here is how you can help me. In the comment box below give me your response to these questions:
Which are some of your favorite books that are not on this list and
Which areas are you looking for reading suggestions/ recommendations on?
**If you loved this article connect with me on Facebook, Instagram, Twitter, Google+, Pinterest. Expect regular tidbits of knowledge, quotes, and inspiration to help you on your personal growth journey.