Kerry and Terry lose their jobs on the same day, they both feel sad about it as they had not anticipated it. Kerry goes home and cries herself silly, she calls every relative she can think of and gives them the bad news and tells them that they are all she got, (which means 'I will be expecting financial support from you'). She spends the rest of the week narrating how heartless her former bosses were and painting the picture of her desperation to anyone who cares to hear. Life is so unfair and she just can't believe it happened to her. "Why me?" becomes a common question in her conversations.
Terry, on the other hand, goes home and informs her husband what happened. They are deeply disturbed about her situation, but they decide to spend the evening doing fun family activities late into the night. After all, she is not going to be late to work tomorrow. She wakes up the next morning and lists down all the skills she has gained over her time in her former workplace and updates her resume. As she is doing this she remembers how for a long time she has been thinking of starting her own freelance consultancy but the 'security' of her job held her back, this is surely a blessing in disguise!
She immediately identifies all the companies that would be her potential clients and spends the next two weeks presenting her resume and pitching her services to them. Before long she lands her first client and though she is not making as much money as she did while at the job she lost, she is grateful that her dreams are finally beginning to take shape. Meanwhile, Kerry is struggling to get back on her feet.
What is the difference between these two ladies? It is how they chose to respond to their circumstances. It is not what happens to you that matters, it is how you chose to respond to what happens to you.
See the 5 books that changed my life.
Below are some of my best quotes on positive attitude. I hope that they will inspire you to develop and maintain a positive attitude.
25 awesome quotes that will show you the benefits of a positive attitude
"We don't see things as they are, we see them as we are." – Anais Nin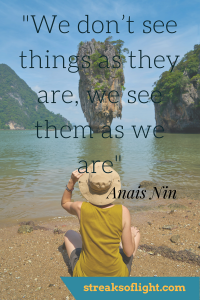 "Whether you think you can or whether you think you can't, you're right." -Henry Ford.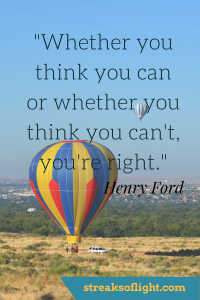 "Keep your face to the sunshine and you cannot see a shadow." — Helen Keller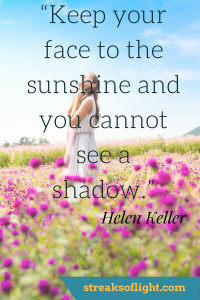 "Perpetual optimism is a force multiplier." — Colin Powell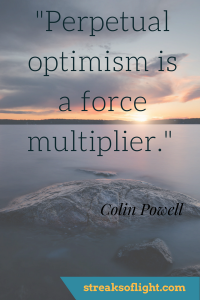 "With everything that has happened to you, you can either feel sorry for yourself or treat what has happened as a gift. Everything is either an opportunity to grow or an obstacle to keep you from growing. You get to choose." – Dr. Wayne W Dyer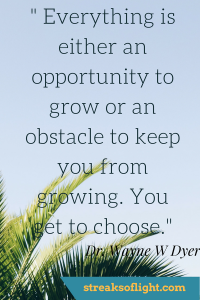 "An attitude of positive expectation is the mark of the superior personality."  – Brian Tracy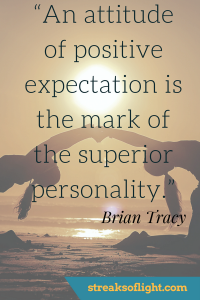 "Positive thinking will let you do everything better than negative thinking will." — Zig Ziglar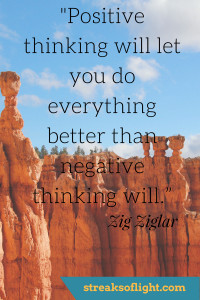 "Once you replace negative thoughts with positive ones, you'll start having positive results." — Willie Nelson

"If opportunity doesn't knock, build a door." – Milton Berle

"Believe in yourself! Have faith in your abilities! Without a humble but reasonable confidence in your own powers you cannot be successful or happy." – Norman Vincent Peale

"An optimist understands that life can be a bumpy road, but at least it is leading somewhere. They learn from mistakes and failures, and are not afraid to fail again." ―Harvey Mackay

"Optimism refuses to believe that the road ends without options." ―Robert H. Schuller

"Happiness is an attitude of mind, born of the simple determination to be happy under all outward circumstances." -J. Donald Walters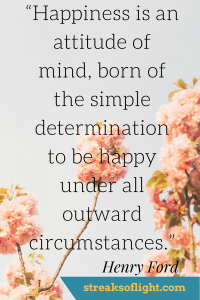 "In order to carry a positive action we must develop here a positive vision." — Dalai Lama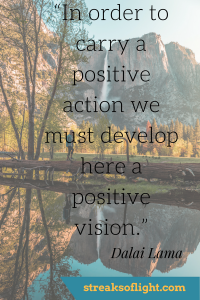 "Pessimism leads to weakness, optimism to power." — William James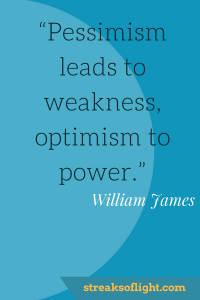 "All you can change is yourself, but sometimes that changes everything!" – Gary W Goldstein

"Happiness is an attitude. We either make ourselves miserable, or happy and strong. The amount of work is the same." – Francesca Reigler

"If you want light to come into your life, you need to stand where it is shining." – Guy Finley

"You cannot have a positive life and a negative mind." -Joyce Meyer

"No matter what the situation, remind yourself "I have a choice." – Deepak Chopra

"Each day, I come in with a positive attitude, trying to get better." -Stefon Diggs

"We Can Complain Because Rose Bushes Have Thorns, or Rejoice Because Thorn Bushes Have Roses." – Unknown

"Positive thinking is more than just a tagline. It changes the way we behave. And I firmly believe that when I am positive, it not only makes me better, but it also makes those around me better." — Harvey Mackay

Life is 10% what happens to you and 90% how you react to it. -Charles R. Swindoll

A strong, positive self-image is the best possible preparation for success. -Joyce Brothers
Positive attitude and success
In their book, success through a positive mental attitude, W. Clement Stone, and Napoleon Hill explain that success will come when you combine action with a positive mental attitude. There are several real-life examples and testimonies in this book, it is a life changer.
Find more recommendations for books that will totally change your life here.
If you like a quote, feel free to share it with your networks. You can share the article using the social media buttons below. If you have been inspired, have a comment,  a quote or anything else you would love to share please let me know in the comments below.