Are you struggling with breaking bad habits and build some good ones? You are not alone and yes, you can do it. I found some amazing TEDx Talks about habits and creating lasting change. They were so phenomenal I had to share them with you. I believe they can really teach you how to create lasting change in your life.
---
I was cooking a meal that usually takes me really long and I like to play something in the background that is either fun or educational when I'm doing that because I'm not a big fan of cooking. Since I have been thinking about my daily routine and how I would like to establish better habits in my life, I decided to listen to something along those lines. And it was the best decision ever!
I searched for Ted Talks about habits on YouTube and had them on autoplay. These talks really blew my mind. The concepts were simple yet so powerful that I have been thinking about them for a couple of days and trying to implement them in my life. And if you have been on this blog before, you know I like to share when I learn something that I think would help someone else too. So I'm sharing them with you.
1. THE POWER OF HABIT- CHARLES DUHIGG
Charles Duhigg is a journalist and the author of the popular book, The Power of Habits: Why We Do What We Do in Life and Business. This TEDx Talk helped me realize the origin of the Toddler snack challenge that has been popping up all over lately (thanks to Tik Tok :D).
There is actually a lesson to learn from that challenge y'all. Watch the video.
CHANGE ANYTHING USING SKILLPOWER OVER WILLPOWER – AL SWITZLER
I like understanding why people choose their career paths and the inspiration behind it. Al Switzler is the cofounder of VitalSmarts and researches how to drive sustainable behavior change. It is personal for him because his mother tried to quit smoking for a long time unsuccessfully even though she had the willpower to do it.
This presentation was really eye-opening and helped me realize why some habits are so hard to break. Willpower isn't enough, and sometimes where there is a will there needs to be a skill.
Al has also co-authored a book, Change Anything which I am adding to my "to-read" list.
FORGET BIG CHANGE, START WITH A TINY HABIT – BJ FOGG
BJ Fogg is the author of Tiny Habits: The Small Changes That Change Everything Hardcover. For a long time, I underestimated the power of tiny habits or mini-habits as others call them but honestly, I think it is the most powerful concept I have found in making positive changes in my life.
By focusing on getting the tiniest of things done consistently, I am slowly building up habits that are creating lasting change over time. This was another really good one.
Listening to TEDx Talks is not enough, you got to start implementing what you learn
As I have been doing a lot of self-education in the past few years I have learned one very important thing about personal development, you don't get better by learning, you get better by implementing what you learn.
It is paramount that after you listen to these TEDx talks and get the powerful lessons, don't just feel good about it, go back to your drawing board and start using this education to BREAK YOUR OLD HABITS AND CREATING SOME GOOD HABITS that will improve your life.
That's what I'm also continuously doing as I learn. Let's create some lasting positive change together.
HAVE YOU LISTENED TO A TED TALK THAT HELPED YOU BREAK BAD HABITS AND START BUILDING SOME GREAT ONES?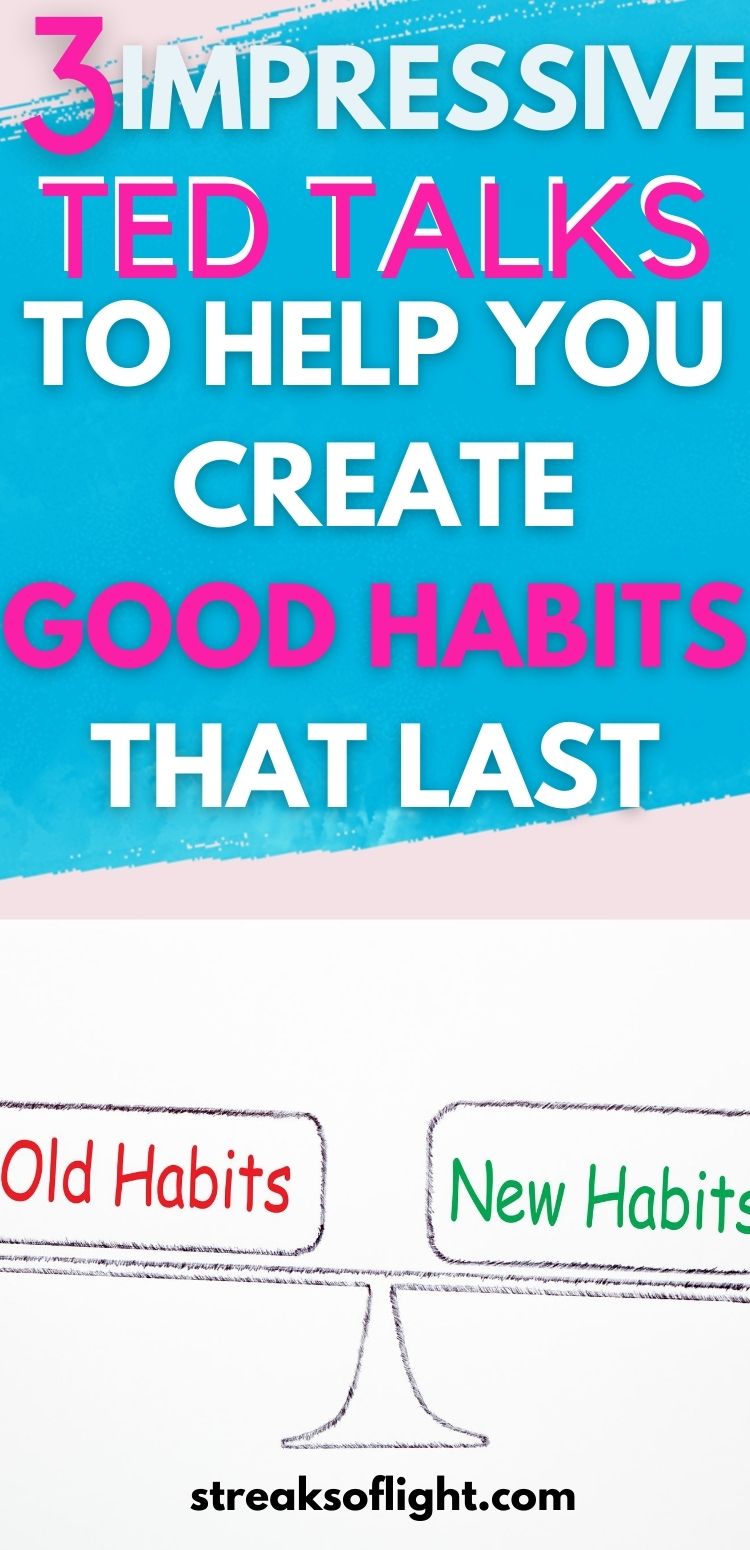 YOU MAY ALSO LIKE: