You have probably heard about the blog by number course by Suzi from start a mom blog and you are wondering whether it is all that it's hyped up to be. Or maybe you just stumbled on this post out of curiosity and have never heard about Blog by Number before, well, I am going to tell you all it entails (from an insider's point of view) and give my honest review of the course.
I have been blogging for a little over 2 years now, and I have realized there are a lot of shiny objects going around in the name of courses, freebies, checklists, and a ton of other stuff.
*This post contains affiliate links
I fell for a lot of these things and eventually I realized there is actually a name for it, "the Shiny Object Syndrome."
Basically, the Shiny object syndrome (SOS) is when you find yourself chasing the latest ideas, or trends, or courses or whatever is said to be working at the moment. At its core, the shiny object syndrome will have you chasing "shiny objects" and as a result you will get distracted from doing the things that really matter for your business or in this case the things that would really help you grow your blog.
This is a good resource to learn about SOS, whether you have it and how to overcome.
After losing so much time, I realized that I had to find one reliable resource and stay focused in order to make progress on my blog. I did a lot of research and eventually I found Suzi Whitford.
I went through the Start a mom blog website and got as many freebies as I could. I went through as many as I could and I was amazed by how much knowledge she shared.
To optimize my learning, I limited my blogging education to Suzi of Start a Mom Blog, Elna Cain of Twins Mommy, and the training from my website host.
When I was finally ready to start my mom blog to make money online, I knew exactly where to go. Suzi was the perfect teacher and guide.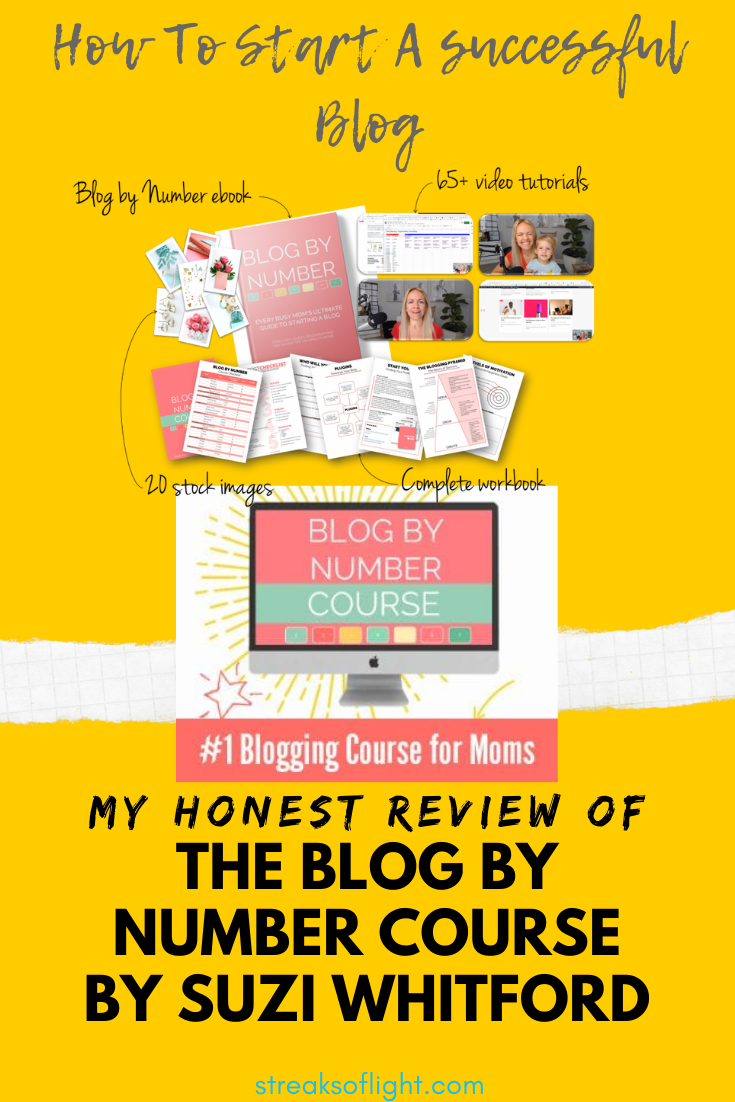 My Honest Review of The Blog By Number Course By Suzi Whitford
Blog by number is Suzi Whitford's signature course for people who want to start a successful blog. Anyone can use it really, but I think the bulk of her audience is made of moms.
She is a mom of three and a former Industrial Engineer who built her blog to over $20,000 per month in just over a year. She actually managed to retire her husband a few years later which I think is A-mazing!
I have used the Blog By Number course to build my mommy blog, motherandbabylove.com, which I launched in April 2020. I got over 1500 page views on my first month and I have already doubled that and my second month isn't even over yet.
These are really good results and I am so proud because it took me over a year to get to 1,000 page views on this blog when I first started. The step by step guidance from the course made a huge difference.
Okay, let's get to the details.
Course: Blog By Number – How to start a successful blog
Price: $97 (but if you read the post to the end, you will find out how to get a coupon for a 25% discount)
What Is In the Blog By Number Course?
Here is what you can expect to find in the blog by number course:
Step by step video tutorials on:
How to build your blog. You will learn everything from choosing a name for the blog, setting up hosting, and installing your theme. Other things you will learn:

How to create your About Me page and all the legal pages you need.

Free plugins you need to boost your blog
Ready to use blog templates that you can install and use in just a few minutes.
How to write your first blog post and the best types of blog posts to write which will help you succeed faster.

You will get fill-in-the-blank blog post templates to increase your traffic, grow your list, and make money. I used one of her templates to create this cool breastfeeding guide that my readers loved.
Learn how to launch your blog successfully so that people get to see your awesome work.
Traffic building; how to get people to visit your blog, how to set up your Pinterest, create gorgeous pin images, setup your niche boards, and use group boards to promote your content.
How to make money from your blog. You can expect to learn all the different ways you can monetize your blog and she gives the best tips.
Easy ways to do simple keyword research and use SEO to grow your blog (using free tools,yes!)
How to grow your email list

Learn how to create freebies and promote them
Free Bonuses included in the Blog By Number Course:
In addition to all that, you also get a ton of bonuses. Some of these are products that Suzi sells as stand-alone products but when you buy the Blog By Number course you get them for FREE.
8000+ blog post ideas – who doesn't want those?
130+ Blog Post Headlines
A complete workbook with checklists to help you write amazing blog posts.
20 free stock images ($20 worth) + a link to 300 more stock images.
Blog By Number Ebook which when sold alone is $18
Who is this course for?
This course is for everyone who wants to start a blog or is in the early stages of starting their blog. If you want to learn how to get traffic to your blog and make money, the blog by number course has all the resources you need.
You will learn to make money from your blog whether you are a working mama or a stay at home mom. Suzi Whitford was actually a stay at home mom when she started blogging and she has managed to scale so fast even with 3 kids.
If you start today the right way imagine what you could have accomplished in 3 years?
Pros of the Blog By Number Course- What I Loved about it
Let me tell you what really sold me on Suzi's courses.
Honestly, I love them. The other day when Printables by number was launched I found myself saying, "take all my money Suzi!" and Debbie never says that to anybody. I am very picky about what I buy but Suzi's courses haven't disappointed me yet.
Here is what sets Suzi apart for me in Blog By Number:
The Blog by number course over-delivers. For example, when she teaches about Pinterest in the course, she gives so much information, it is more than I course I know that charges a lot of money for Pinterest training. I am learning that with Suzi, you will always get more than you came for and I love that.
Suzi teaches in a way that is super easy to understand and she doesn't teach anything halfway and leave you to go 'research' on it. Her courses are in-depth and that is fantastic.
The tools recommended in the course are either free or very affordable. I love that she does not just recommend tools for the sake of it and she does not push you to buy. She understands that when bloggers are starting off it is not the time to spend a ton of money, the training is in such a way that you can still succeed without paying for any extra tool.
She is available for questions and whenever you reach out to her, she is like a friend. Her student support is unmatched. I sent her an email with a question and I was so surprised by how quickly she responded and how friendly she was. I was truly humbled and impressed at the same time. She really cares about her students and that is amazing.
Money-back guarantee: All of Start A Mom Blog courses comes with a 30-day money back guarantee. Just message her within 30 days after you buy.
The Cons: What Are The Downsides To The Blog By Number course?
One downside I found with the course is that the amount of content in the course is so much, it can be overwhelming. Some people actually struggle to finish. Personally, it took me around 3 months to finish from beginning to end while working on my blog and being a busy mom.
The best tips I can give you is to do a little bit of the course every day if you can or every few days. The blog by number free workbook that comes in the course has realistic timelines, use it to track your progress.
It is a lot of content but trust me, if you take this course from beginning to the end, I don't think you will need any other course to be successful as a new blogger. You have to put in the work.
The course is mostly video tutorials and this is a pro for some and a con for others. It is good because you can follow everything you need to learn step by step but it can also be inconveniencing depending on your environment.
Tip: When I realized I was postponing working on the course so that I don't distract my hubby and baby, I got myself these airpods which allow me to listen without distracting anyone else in the house. With them, I could watch with baby in hand and walk around if I needed to since they don't have a cable to tie me down.
Once you really understand what blogging is all about and which monetization technique you want to focus on, then I would recommend buying one of her other courses that focuses on the blogging area that is a priority to you e.g. list building or course building.
A few of the courses I am enrolled in currently:
What other Students Are Saying about Suzi's Blogging Courses:
Suzi's courses are SO worth it! She's a fantastic educator! You get way more than you pay for, that's for sure. Anyone considering her courses or looking for a place to start shouldn't even hesitate to take this program. Great post!

Melissa
I love Suzi and I think it's great that she has her kids in the videos with her at times. I haven't taken blogging by number but I took her list by number and printables class. She's really thorough and makes things easy to implement. I'd say this class is probably one of her best ones so people should definitely try it!

Heather
Are you tight on money and would rather get the FREE blog plan first?
>>> Get the FREE Blog Plan Course Here <<<
More Value For Your Money- The Blog Building Bundle
Since I am all about saving money, there is a way you can save a ton of money and that is by getting the blog building bundle.
The Blog building bundle contains 9 courses with a total value of $481 for $197 ONLY it's a steal
Here is what you get in the blog building bundle:
Blog by number – $97
Niche by number (9 steps to finding your perfect niche) – $27
Post by number $9
How to use Picmonkey to grow your traffic with beautiful images (Free)
4 Masterclass coaching call replays ($148 / $37 each)
Stock images ($200)
More than 50% off!
>>Get the Blog building bundle here(59% OFF)<<
Blogging Courses for Intermediate and Advanced Bloggers
If you have been blogging for a while and know which are struggling with, I would recommend looking into Suzi's other courses for your specific pain point or get the entire bundle for a lower total cost.
Find all her courses (including the free ones) here
Some of Suzi's other blogging courses:
Printables by Number ($97) – For anyone who would like to learn how to create and sell printables or use them as freebies. (I'm currently enrolled and loving it)
Or, you could just go ahead and get all 14 courses at one fair price of $797 by getting the VIP access pass.
How Can I Get a Blog By Number Coupon?
Okay, so I wouldn't want you to spend a ton of money when you have the option of spending less. Unless you can afford to, in which case you should totally do it because the course is worth it :-).
So let me give you a secret.
If you take the Free Blog Plan course to the end, you will find a COUPON that will give you 20% off the Blog By Number course.
If you want to buy the other courses, there is also a discount coupon in the Blog By Number course that you can use on all the other courses.
What Can you accomplish with a successful blog as a mom?
Can you imagine what you can do with some extra money in your pocket? The Blog By Number course will teach you how to make money from a mom blog and be able to:
contribute to your family's finances and clear up debt
Finance family vacations
Reduce the amount of time your spouse has to work.
Transition from being a working mom to a stay at home mom to be with your children. Without taking a hit on your finances.
Wouldn't that be amazing?
No matter your current state, if blogging for money interests you, I highly recommend that you take the blog by number course first to set yourself up for success.
Take it from me, someone who tried a ton of things before landing on the course that finally set me on the right track.
Blog By Number saved me from the shiny object syndrome. It is the only course that I follow and recommend for starting a successful blog and it has paid off for me.
I hope these tips save you a ton of time and money mama.