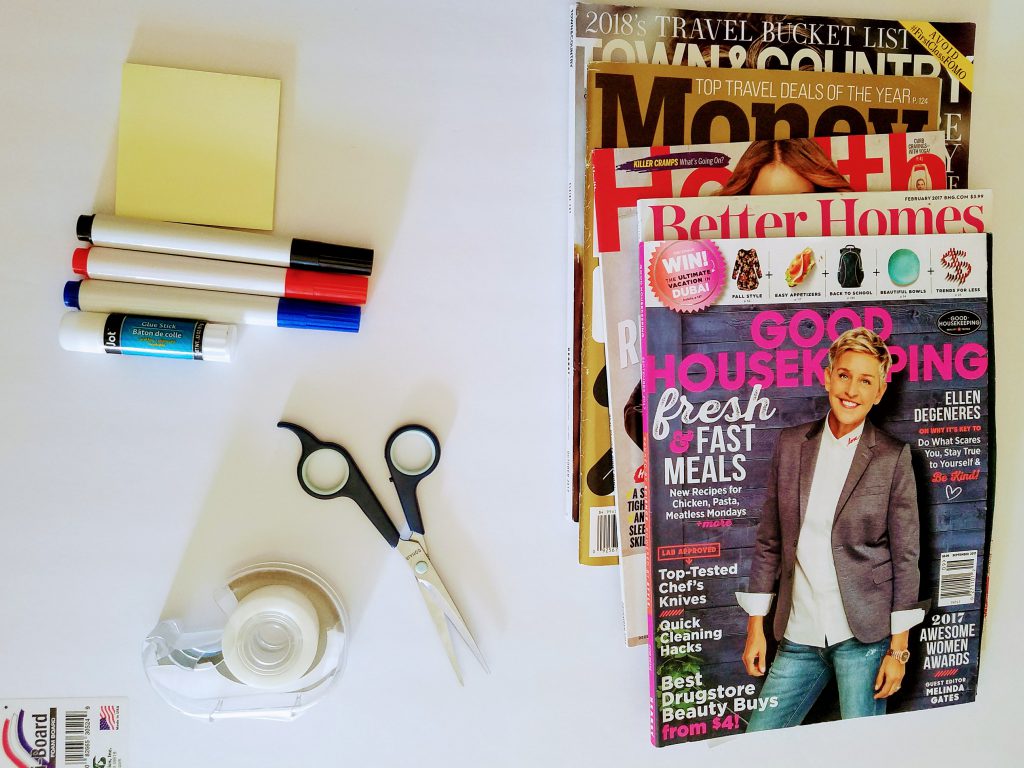 Vision boards are amazing tools for visualizing goals. Though it is not scientifically proven, many people have attested to the fact that vision boards work. I do believe that creating a vision board significantly increases your chances of achieving your goals. If you still don't know the importance of a vision board, you can read my previous post where I explained why you should create a vision board.
* Some of the links on this post may be affiliate links which means that at no additional cost to you I will get a commission if you choose to purchase an item through the links.*
Formats of Vision boards
There are quite a number of formats that one can use to make a vision board. It really depends on your preference and what is easily accessible to you.
Some more common formats are:
Poster boards
Vision books or portable vision boards; you can use a blank art book or a fold-book.
Cork board or bulletin board – use push pins or thumbtacks to attach images to the board
Inspirational wall- you can tape or pin inspirational images and messages directly to a wall.
Small vision boards in a planner – this planner contains a page for a vision board and a mind map, and I love it for all my goal setting needs.
Online boards – you can use vision board design software online or create a vision board using Pinterest boards. These are especially great if you work on the computer all the time. You can set your vision board as a wallpaper or screensaver where you will be able to see it as much as possible.
The general principles of creating a vision board are quite similar regardless of the format you are using, however, feel free to tweak the process to meet individual needs. There is no wrong way to do it. In this post, I am using the poster board for reference but most (if not all) of the guidelines apply to all the other formats.
What you need to create a vision board:
Time – set aside at least 1 hour for this exercise (it is totally worth it)
A pen and paper, or a book.
Old magazines, computer printouts
Glue sticks, tape, push pins or thumbtacks
Markers (optional)
Sticky notes (optional)
How to build a vision board effectively
Here are seven easy steps to create an effective vision board: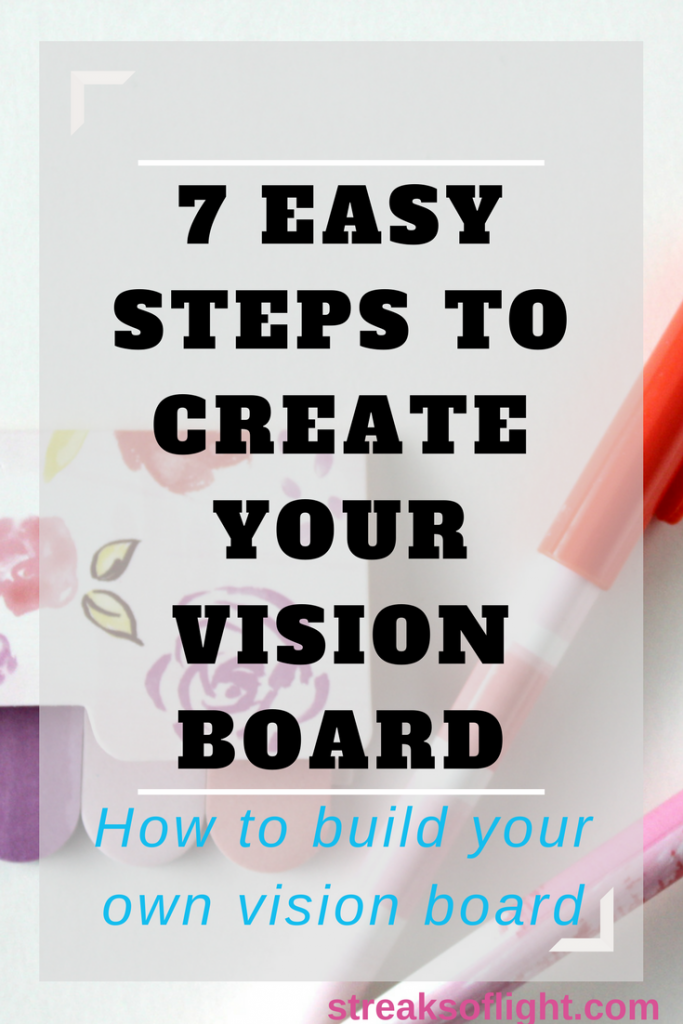 1. Reflect and refine your goals
The first and most important- step when creating a vision board is making goals very clear and purposeful. Most of us have a general idea of what we want in life. Unfortunately, sometimes these goals are too vague to generate any real results. Vague goals lead to vague results. Take time to reflect and refine your goals, make sure you have a very specific target for all the goals you have. Ask yourself what you are passionate about, take time to visualize it and make it crystal clear in your mind.
Vague goals lead to vague results
Click To Tweet
Next, examine your goals and ask yourself why you are aiming at each goal. Why do you want what you want? What is 'your why'? Does it fit into the big picture of the vision you have for your life? Is 'your why' resonating with your value system? Refine those goals.
As you do this exercise, you will realize that some goals are not worth pursuing because 'your why' was flawed. I personally find this exercise to be very powerful in helping me decide which goals I should chase and which ones I could be wasting time on. If 'your why' is peer pressure, of course, that is not a goal worth pursuing.
2. Write a goal action plan – make a list of activities and tasks
I have to confess, I am really big on lists. I make and remake lists all through the day to help me focus. On the days that I don't have a list, I am literally all-over-the-place. It is, therefore, a no-brainer for me to recommend lists for this step.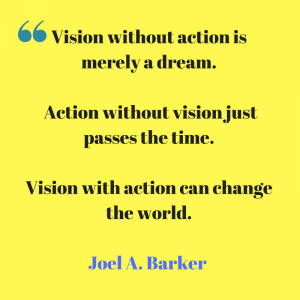 You have already identified your goals and are very clear on them. So at this point, you list down what you will do to make them a reality. If you want to improve your relationship with a child, what activities do you want to do with them? How much time are you going to spend with them? Do you need to read a book on parenting? Ask yourself this questions and list your responses. Do it for all your goals.
Make the list as long as you need to. The aim here is to make sure that you have a clear list of tasks and activities that are essential for achieving your goal.
The first two steps are the most important and once you have completed these, the rest of the process will be much easier.
3. Choose the focus of your vision board
Having decided on the action plan, now you need to choose what your vision board will focus on. You can decide to make separate vision boards for various goals or do one vision board for all your goals. Choose what works for you and focus on that.
4. Gather the materials; images and text
Take the old magazines and flip through to find images, quotes, or phrases that inspire you to take the actions you listed earlier. Cut out the images focusing on one area at a time. For example, you can decide to focus on health goals first, cut out everything that relates to your health goals before you move on to another goal. Do this until you have enough for all your goals.
If you don't have magazines, head over to Pinterest or search for images online and print them out. Obtain as many as possible which are in line with your goals and then select the ones that appeal to you the most.
5. Paste the images and messages on the board.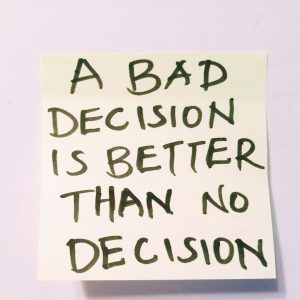 Once you have all the images you like, use the glue sticks, tape, push pins or thumbtacks to place the images on the board.
Use the marker to label on the board or to write phrases that you like on the board. Feel free to write additional messages on sticky notes and add this to the vision board as necessary.
I use sticky notes to add messages to my vision board according to the challenges I am facing at a particular point in time. I recently realized I was struggling with indecision and decided to add a message on a sticky note to my board. It's amazing how much difference it has made!
You can read about how I am overcoming indecision and getting out of my comfort zone in this article: I am out of the comfort zone and loving it
6. Place the board where you can see it often
Choose a location for your vision board where you can see it daily, or several times a day. It is not serving its purpose if you cannot see it often.
7. Commit to making use of your vision board
Now you have created a vision board, how do you make it effective? Commit to using it, really. Don't put up a vision board and never look at it. Take time to look at your vision board every day, look at those images and allow yourself to visualize the meaning behind them. Allow them to excite you and fire you up. Finally, get on your feet and do the work required to make your dreams come true.
I'd love to hear from you. Let me know how you created your vision board. If you have created one before, did your vision board work? Leave me a comment below.
With love and light,
Debbie.
debbie@streaksoflight.com