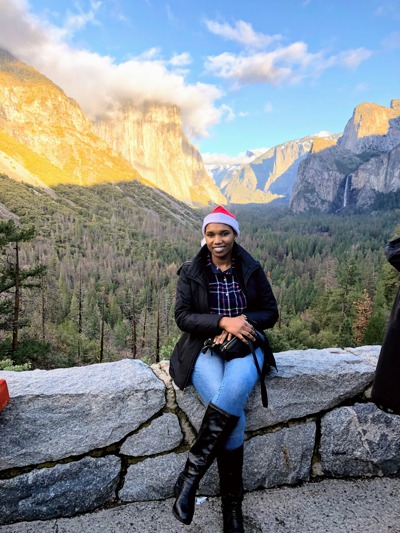 Have you been to Yosemite National Park in central California? We visited this last Christmas and boy, did we have fun!
Yosemite National Park, CA is well worth all the hype that it gets. Designated as a world heritage site, Yosemite is a major landmark popular for its granite cliffs, waterfalls, diverse vegetation and clear streams. The scenery is breath-taking. Everything I imagined and more.
Location
The Yosemite National Park is located in the Sierra Nevada mountains in central California. About 200 miles east of San Francisco, 450 miles west of Las Vegas and about 300 miles north of Los Angeles.
Whichever direction you want to approach it from, a visit to Yosemite will be well worth your time and effort.

Don't listen to what they say, go see.
After our friends visited the park in December 2017 and a couple more people recommended it, I knew we had to visit and see it for ourselves.
As time goes by, I have come to appreciate the power of seeing nature through your own eyes and being present. The magnificence of some places cannot fully be captured in pictures. You have to see it for yourself.
With that, we were going to Yosemite National Park, CA. But if you know me, you know that I try to milk out every opportunity I get. So when hubby and I finally managed to get a few days off at the same time, I was going to maximize that opportunity the best way I know how.
And that is how we ended up planning a trip that would take us to Yosemite in California, Las Vegas in Nevada, the Grand Canyon in Arizona, and back to the bay area, all within a span of four days.
Of course, that is a pretty long drive, covering about 2400 miles in total. We opted to use a tour company rather than drive ourselves all the way.
I booked our trip online at this site and it was quite seamless. The trip starts in San Francisco but the bus company has pickup locations throughout the bay area. That was a plus for us because we did not want to have to go into the city to catch the bus.
If you are flying into San Francisco for the trip, the tour bus has pickup and drop off locations near the airport, accessible by the airport shuttle. I think that is pretty convenient if you ask me.
The tour guides were very considerate and quite knowledgeable about the various places that we visited. Things like taking a bathroom break may not seem like a big deal until you are in a public bus in the middle of the Mojave desert with no idea when you are going to arrive in the next town or even where the next town is. So when the guides make sure that you have enough stops for bathroom breaks, it goes a long way to ensure comfort.
Have you read my post from last week? Find it here
The Yosemite Mountains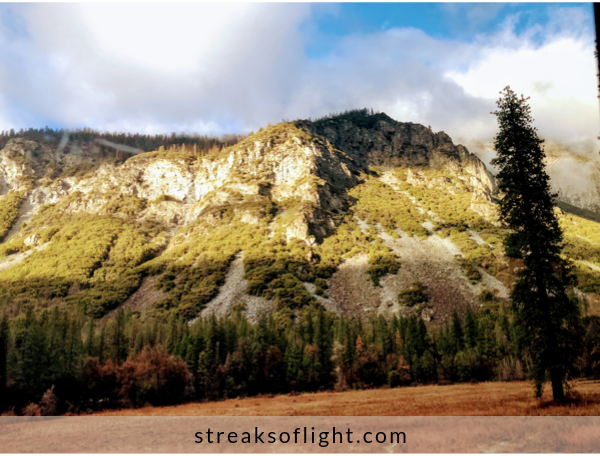 We arrived at Yosemite mountains at around 3 pm and were treated to the dazzling beauty of the vegetation zone. I enjoyed watching the oak trees, cedar and pine trees that so majestically adorn the mountains.
We watched the remarkable granite slopes as the hills come together beautifully and the sun gloriously shining from the horizon. It was a magnificent site. There were many wows and a few moments that left me speechless. I really cannot quite find the words to describe how beautiful the place is. The scenery there is enchanting.
Also, our guide to Yosemite National Park really tried to teach us about the history of the place. Whether he was being accurate or not I don't know. But at least, he was entertaining.
Things to see at Yosemite National Park
Some of the major attractions that we got to see
The Tunnel View– this was the first stop and seems to be the most popular destination for most of the visitors.
The Tunnel View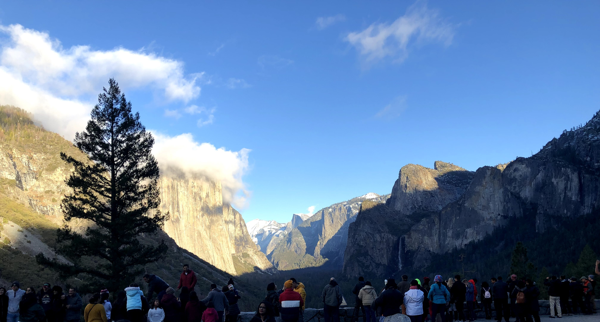 The Bridal Veil waterfall – this was the first waterfall we saw. It is about 188 meters in height and flows all year round. Its name is based on its veil-like appearance when winds blow the mist sideways. Too bad I wasn't able to capture the phenomenon on camera.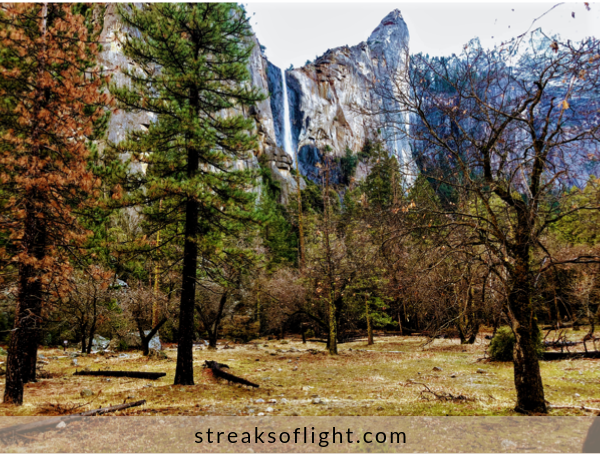 El Capitan– a vertical rock formation which is 3,000 feet from base to top. It is the largest granite monolith in the world.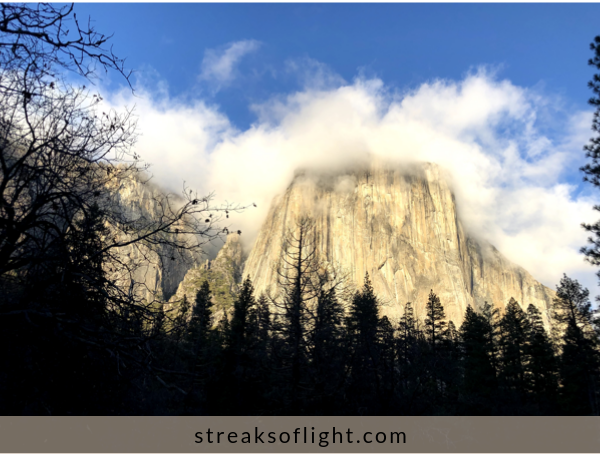 Yosemite Falls – these were breath-taking. The Yosemite Falls are the highest waterfalls in the park, divided into 3 sections; The upper falls, the middle cascades, and the lower falls. At about 2425 feet from the top of the upper fall to the base of the lower fall, it is the tallest waterfall in North America (though not the largest).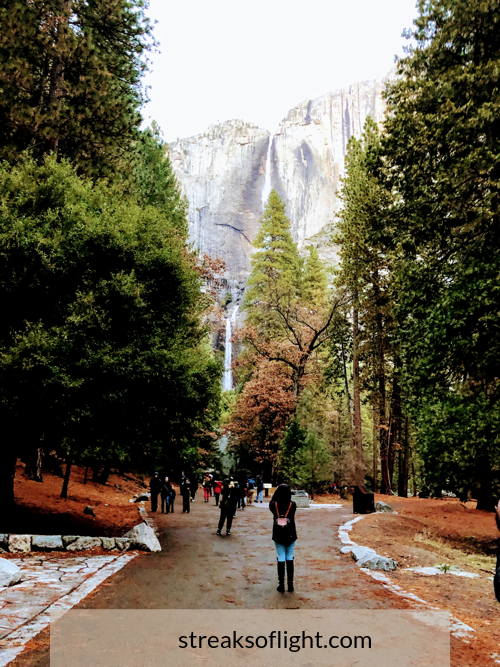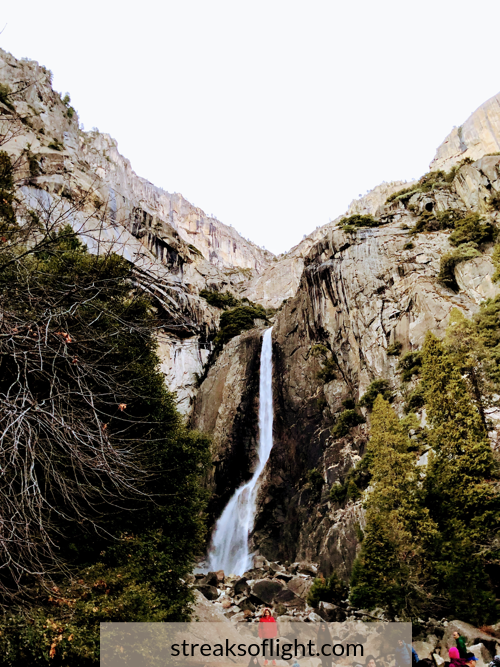 Tips to visit Yosemite National Park California
Some tips I can give if you are planning to visit Yosemite National Park are:
Keep Yourself Warm. This is especially important if you are headed to Yosemite in the winter as we did. It is very chilly. Carry your warmest jacket and make sure you have your hat on. Thank me later.
Safety comes first, good pictures second. Accidents are a common occurrence in Yosemite. With people injured from a fall as they are climbing rocks or even more scary as falling off a cliff as they were trying to get the best pictures. Just be careful.
If you can use a tour company for your first trip, I highly recommend this one we used. We had nothing to worry about in terms of logistics. Just sit in the bus and enjoy!
But if you are driving yourself during winter, beware of snow on the road. You may need snow chains on your tires for safety
Enjoy! Of course, this is the most important tip when you are visiting Yosemite National Park. Regardless of the weather, have fun.
To end our Day 1 of the trip, the tour company booked us into a hotel in Fresno. Given it was already dark by the time the bus was leaving Yosemite to Fresno, we slept most of the way. (The advantage of not driving yourself). We would be heading to Las Vegas the next morning for Day 2 of our trip.
Now Vegas was quite the experience. Let's talk about it in the next post, shall we?

Hey, don't forget to share this post!
With love and light,
Debbie- Streaks of Light.